Advanced Bioethanol
Renewable and clean energy are key drivers in decarbonizing the difficult-to-abate transportation and chemical industries for them to reach net zero emissions in 2050.
Globally, governments and industrial players are exploring different carbon-neutral pathways and technologies, which can contribute to meeting the decarbonization targets and can be sustainably and economically deployed at a commercial scale.
The conversion of non-food biomass like non-eatable agricultural and forestry residues into advanced bioethanol as drop-in fuel (also named 2G or cellulosic bioethanol) is one of the main pathways being selected across continents for policy frameworks to incentivize investments.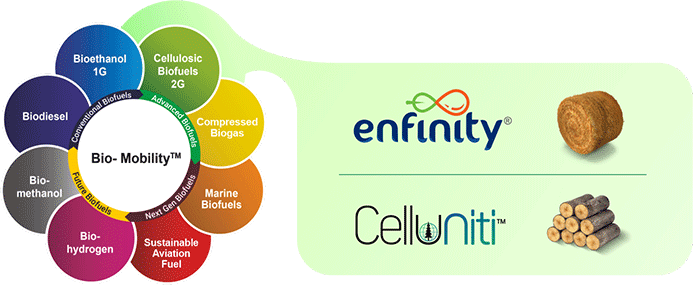 Flexible Platforms for Next-Gen Biofuels & Biochemicals
The end products of the enfinity® and Celluniti
TM
process namely advanced ethanol, cellulosic sugars, lignin, stillage, and biogenic CO
2
can be chemical precursors and intermediates for next-gen biofuels like Sustainable Aviation Fuel (SAF) and bio-based Renewable Chemicals and Materials (RCM). To produce such products, the enfinity® and Celluniti
TM
biorefineries can be flexibly designed as upstream platforms. Praj Industries additionally offers a panel of technologies to produce SAF and RCMs within our
BioPrism®
platform.