Critical Equipment
Overview
Critical Process Equipment & Skids provides world class solutions to global customers across hydrocarbon industry, petrochemicals, industrial gas plants & chemical plants.
From extended basic engineering to commissioning assistance this vertical offers specialized services in conceptualizing, engineering and manufacturing of modular process packages along with Critical equipment such as reactors, High pressure vessels, heat exchangers, columns and customer specific proprietary equipment.
Our capability is substantiated by a multi-disciplinary engineering team of ~50 dedicated to this business. We support our clients with FEA (Finite Element Analysis), Process & Thermal Design and Piping Design & Stress Analysis.
Our well-equipped manufacturing facilities have excellent connectivity to ports and highways. Total area of all facilities put together is 1,40,000 sqm and covered area is 44,000 sqm expandable as required. The facilities have been accredited with ASME U & U2 stamps, R stamp, NB & IBR registrations. Additionally, we have been regularly supplying CE marked equipment under PED.
These facilities have been approved and accredited by many global EPC companies and multinational clients.
Today, Praj's critical equipment and skids business, with its demonstrated capability is fully geared to take on far more challenging projects in the spirit of partnership with customers. With excellent engineering skills, state of the art manufacturing infrastructure and unmatched quality, Praj is a name one can rely on.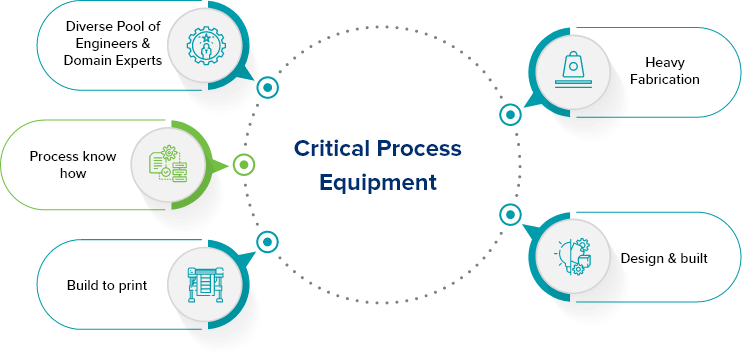 Praj's capabilities are leveraged across industries. With India emerging as a sourcing hub for the world, we have established ourselves as a reliable partner for our global clients. We meet clients' expectations with affordable, safe solution of highest quality.
Praj offers customized Critical Equipment namely.
Reactors
High pressure vessels
Heat exchangers
Process columns / Towers Proprietary Equipment