Bio-VES
Over 35 years of experience in the ethanol industry has given Praj a distinct advantage of creating customized products for the global market. Application of Praj's bio-products not only increases process efficiency in the plant, but also results in a higher recovery of ethanol. Praj is renowned for its global experience in process operations and designing and deploying ethanol plants that handle various feed stocks.
Praj's bio-products division specializes in the development of innovative formulations that add "economic value" to biochemical processes. The division offers performance enhancement bio-products to improve operational efficiency and product quality. Praj has established a state-of-the-art technology centre, Praj Matrix, equipped with the latest equipment. Application based customised formulation research is undertaken to stay abreast with the rapidly changing industry scenario and to meet customer needs. These products are formulated using useful bacteria, yeasts, fungi, enzymes, anti-microbials and nutrition biomolecules.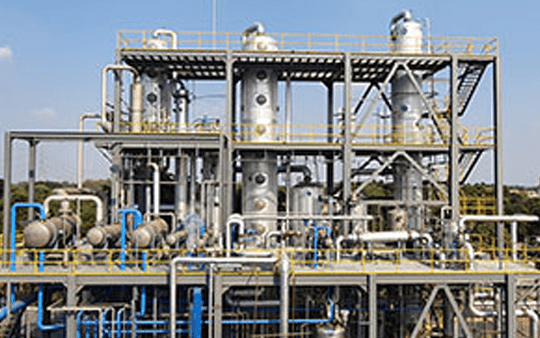 Praj's Expertise is based on
Design and operation of continuous, fed-batch and batch type fermentation processes.
Comprehensive knowledge of feed-stocks composition and its effect on fermentation & yeast.
Performance Microbes and Biomolecules
Natural polymers for immunity enhancement
Vital nutrition molecules for improved growth kinetics
Enzymic formulation for yield efficacy and improvement
Microbial cultures for fermentation/bio-conversion and health applications
Ethical preservatives for bacterial control in process